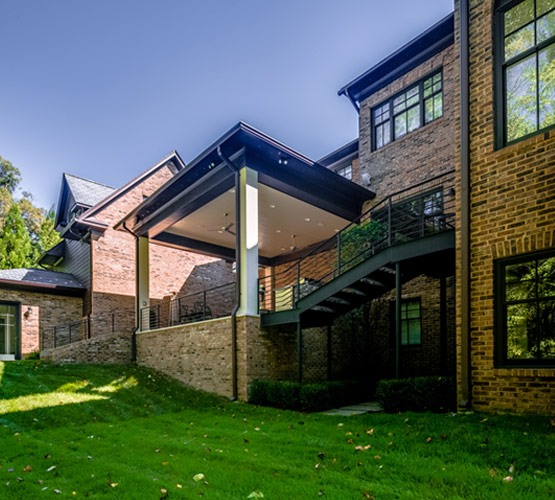 OC Builders was founded by father-son team Senator Omer L. Hirst and Chris Henderson. Omer was a Virginia State Senator and real estate broker, while Chris graduated from University of Virginia with a degree in architecture. They teamed up in 1980 to build custom luxury homes. From the very beginning, the company mission has been to provide high-quality custom residential homes. Chris Henderson retired at the beginning of 2018 but has transitioned company leadership to Vince Dunn, who has worked with OC Builders from it's conception. Vince started as a laborer for OC Builders as a high school student in 1980 and worked for Omer and Chris until 1990, when he decided to start his own construction company. Vince has successfully managed his business from 1990 until the present, and is thrilled to be working with OC Builders again. Vince shares Omer and Chris's commitment to superior craftsmanship while placing an emphasis on a positive customer experience.
The vision at OC Builders is simple: Your vision is our vision. We strive to provide our clients with an elegant space that they have a hand in designing. If a client is unsure of what direction to go in, we work with them to decide on a style and personalize the space to suit their needs and surpass their expectations. It is our mission to make your dream space a reality.
The construction industry requires strong attention to detail, a wealth of product knowledge, and craftsmen capable of executing complex and exacting plans. We've built a highly experienced team of professionals who take great pride in their work. We've always viewed OC Builders as a large family – most of our employees have been with us for fifteen years or more.
OC Builders has been privileged to work with the area's top residential architects. We've received several Finest in Family Living awards for both classical and modern design homes built for our clients. Some of the homes have also been featured in various publications, including Home and Design and Architectural Digest.
CONTACT US
We take pride in our ability to guide our clients through the construction process by coordinating with both architects and clients at every stage. Our goal is to make our clients' visions a reality and construct beautiful spaces they'll enjoy for years to come. CONTACT US to learn how we can help you bring your dream home or renovation to life.
CONTACT US